On Sunday, French President Emmanuel Macron displayed European military cooperation in a Bastille Day parade. The event was attended by key EU leaders including Dutch Prime Minister Mark Rutte and German Chancellor Angela Merkel. However, the annual ceremony of France's National Day was tarnished by clashes that erupted between the protesters and police officers.These clashes revoked violence witnessed at the "Yellow vest" protest movement at the start of this year.  Police were forced to use teargas in dispersing the protesters who had set camp at the Champs-Elysees.
How the Clashes Transpired
During the National Day, there was no hitch when the earlier parade itself was taking place. Actually, some 4,300 members of the armed forces had matched down the avenue famously known as Cobblestones. This is a tradition that dates back to the aftermath of World War 1. However,President Macron was met by whistles and jeers while standing in an open top command car alongside General Francois Lacontre, France's chief of staff.  The jeers and whistles are believed to have come from the yellow vest movement.
During the protests, two key figures of the movement, Maxime Nicolle and Jerome Rodrigues were both detained as per reports from AFP. Paris authorities also said they had detained close to 152 people even before the event had taken place.  However, this did not stop protesters from putting down security barriers and setting fire to portable toilets and rubbish bins.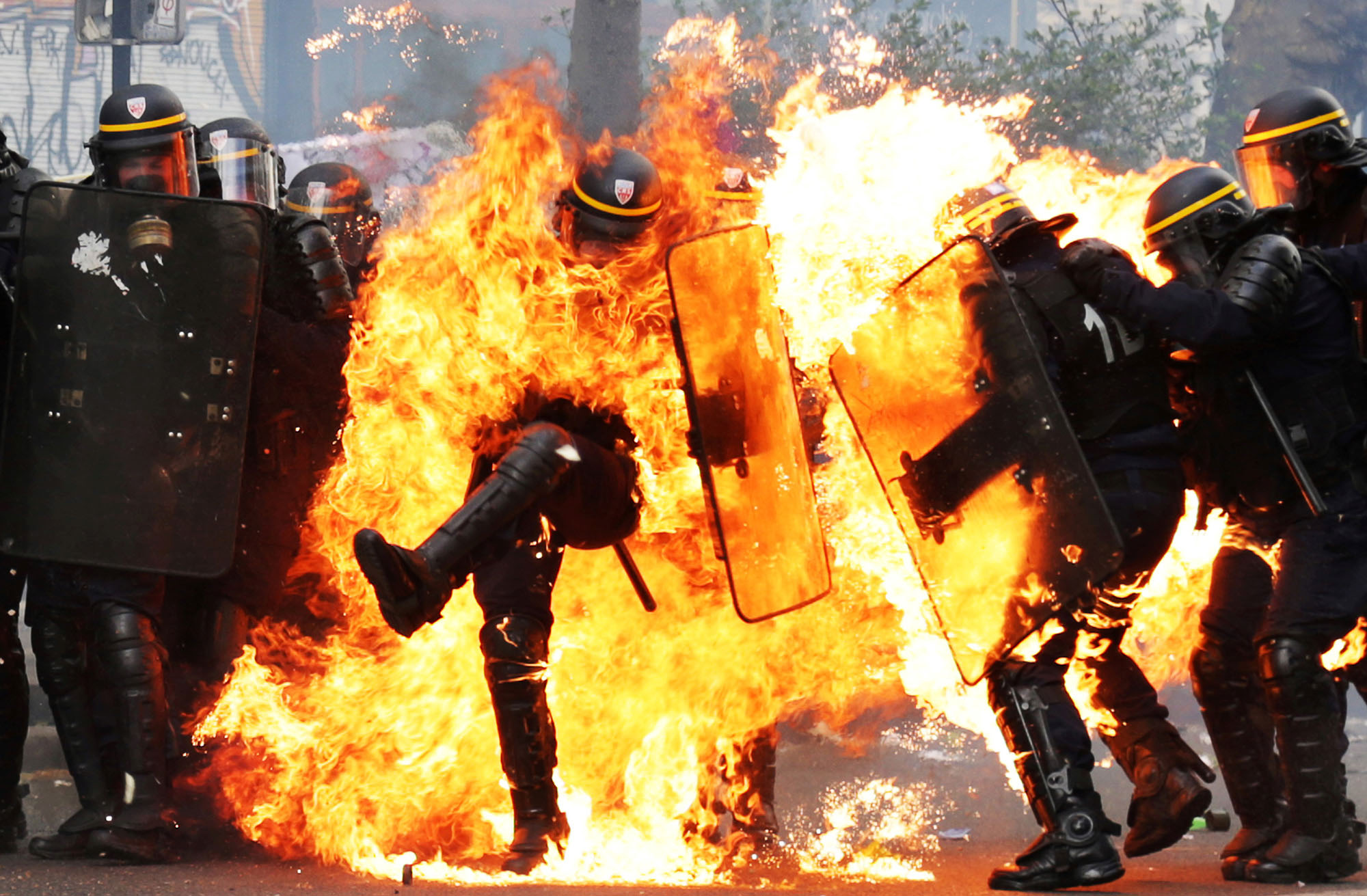 An Army that is Transforming
It is without a doubt that the French army is undergoing transformation as was evident during the parade. One of the remarkable happenings of the day was when Franky Zapata, a French inventor and entrepreneur, showed off his futuristic fly board that soared above the Champs Elysees and the assembled leaders. France President Macron in a brief remark on France 2 television said "The army is transforming: It is modernizing for our soldiers, our sovereignty and our independence."
Despite the increasing signs of a political turbulence in Germany and the looming exit of Britain from the European Union, Macron is still determined to set up a closer European defense cooperation.During the 2017 parade, Macron had invited the newly inaugurated President Donald Trump as he sought to create a bond with his US counterpart. However, things seem to have taken a different direction after temperatures boiled over the US pullouts from the Paris climate accord.  The Iran nuclear deal and France's new law of a tax on a digital giants also added salt to the wound.
What Next?
The latest clashes between police and protesters from the "Yellow vest" movement is a clear sign that things are still not okay as many thought. To make it worse, the clashes took place during a National day when Macron was hosting leaders from Europe. It still remains unknown whether the detained protesters will be released as soon as possible or what the people may do in response to their leaders being detained.